Free Test ID
Username: test1 – test9999
Password: 1234
HotRoad
Hotroad, a trailblazer in live casino gaming, has redefined the industry with the introduction of robotic card dealers. These cutting-edge robots guarantee unparalleled accuracy and fairness in card dealing, eliminating human errors and ensuring a level of fairness previously unheard of in live casino gaming. To enhance its offering, Hotroad has entered into a strategic partnership with Winbox, a renowned Malaysian online casino. This collaboration promises an array of benefits for players, from a wider range of games to attractive promotions and a secure and user-friendly gaming environment. Hotroad's emphasis on fairness, security, and immersive gameplay distinguishes it as an industry leader, making it a compelling choice for both experienced gamers and those new to online casinos.
Overall Ratings
Trust Fairness: Hotroad prioritizes security to ensure players enjoy a safe and fair gaming environment.
Games: Hotroad offers a variety of live casino games, including Dragon, Pingpong, Onetwo, Sandwich, Switch, and Separated.
Bonuses: Players using Hotroad through Winbox Promotions can access enticing bonuses such as welcome bonuses, daily spin bonuses, and turnover bonuses.
Customer Support: Hotroad provides 24/7 customer support and offers various contact options, including live chat, WhatsApp, and Telegram for user convenience.
Basic Information
Website: https://www.winboxclub.com/
Games:

Live Casino: Dragon, Pingpong, Onetwo, Sandwich, Switch, and Separated

License:

PAGCOR

Support:

Live Chat, WhatsApp, and Telegram

Currencies:

MYR

Languages:

English, Chinese, Malay
Gameplay
In Baccarat, the gameplay revolves around a standard 52-card deck without any jokers. This game employs 8 decks in total. Notably, each set of 60 games constitutes a single game cycle, and to ensure fairness, all cards undergo a thorough shuffle at the commencement of each game cycle. 
GameRule
In Hotroad's game rules, at the beginning of a new shoe, the initial card is revealed, and its value dictates the number of additional cards to be burned. For instance, an ace results in burning one card, cards 2 to 9 lead to burning two to nine cards, and cards 10, J, Q, and K result in burning ten cards (excluding the first card). These burned cards remain concealed and are not shown. The actual gameplay commences after the cards have been burned, with neither the first card nor the burned cards being dealt during the game. 
Available Games
Filter: The filter options allow players to choose from categories such as "All," "Dragon," "Ping Pong," "One Two," and more. Once selected, the tables are organized according to the player's choice.
My Bet: 
This feature enables players to view all tables currently in the betting phase.  
ALL: 
This option displays all available tables in the game.  
Dragon: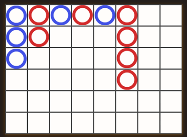 In the Big Road display, consecutive sequences with 4 Banker/Player circles or more are featured. 
Ping Pong: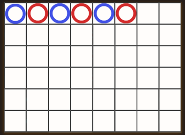 In the Big Road, each column equally showcases 1 banker and 1 player, or 1 player and 1 banker in alternation.  
One Two: 
In the Big Road, sequences of 1 banker and 2 players, or 1 player and 2 bankers, are repeated. 
Sandwich: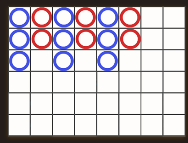 In the Big Road, adjacent columns display 2 banker and 2 player circles or more.  
Switch: 
Switch (Banker): In the Big Road, there are consecutive sequences of banker, player, followed by 2 bankers and 1 player.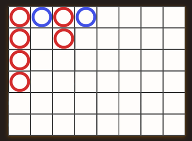 Switch (Player): In the Big Road, there are sequences of 2 players, 1 banker, followed by consecutive players and 2 bankers.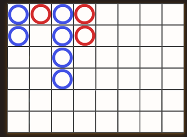 Separated: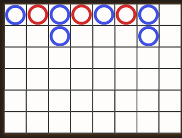 In the Big Road, one Banker/Player is separated by a random Banker/Player, and then two or more Banker/Player circles appear, repeating this pattern at least twice. 
These categories provide players with various gameplay options and experiences to choose from in Hotroad. 
Instruction of HotRoad
Welcome to the world of Hotroad, where excitement and strategy collide! Whether you're a seasoned player or just getting started, these instructions will help you make the most of your Hotroad experience. 
Multiplay: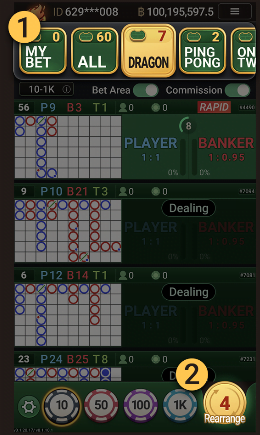 1. Filter:
Scroll sideways to choose your preferred filter setting. 
2. Rearrange:
Click to Rearrange the Good Road page. Table numbers will be displayed whenever there are active Good Road tables.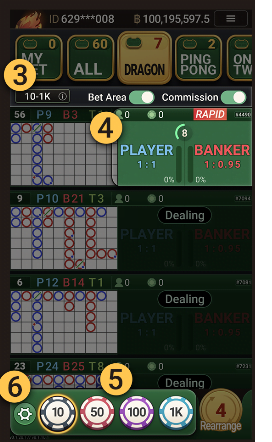 3. Roads area:
Adjust your bet limit, close the bet area, and switch commission modes. 
4. Betting area:
Keep an eye on your total bet amount and the number of players.
5. Chips area:
Manage your chips and access various betting settings, including Dragon Bet, Auto Confirm Bet, and Bet Limit. 
6. Bet option:
Select different chips and related betting settings.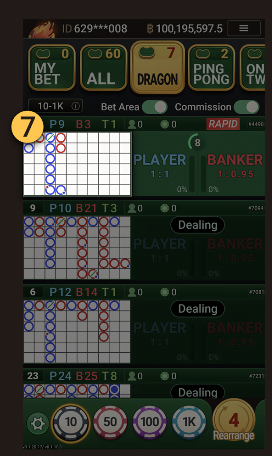 7. Click on the roads:
Enter the live streaming betting page for an immersive gaming experience.
Single Table: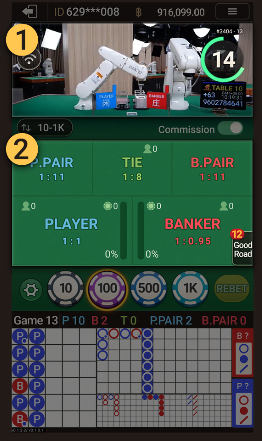 1. Live Streaming area:
Witness the showdown with robotic arms and keep track of the betting time countdown. You can also change IP routing and access live announcements.
2. Betting area:
Monitor your total bet amount and the number of players at the table.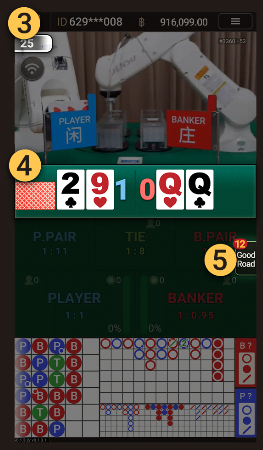 3. Current table:
Stay informed about the ongoing action at your chosen table.
4. Showdown/revealing area:
Get ready for the exciting moment when the results are revealed.
5. Change table:
If you're looking for a change of pace or a new challenge, simply click on this option. Good Road table numbers will be displayed for easy navigation.
Switch Table: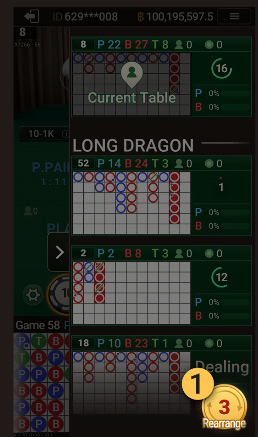 1. Rearrange:
Click to Rearrange the Good Road page. Table numbers will be displayed whenever new Good Road tables become available.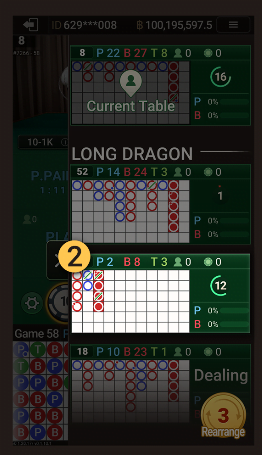 2. Click on the roads:
Easily switch between tables to explore different game dynamics and maximize your opportunities.
Dragon Bet: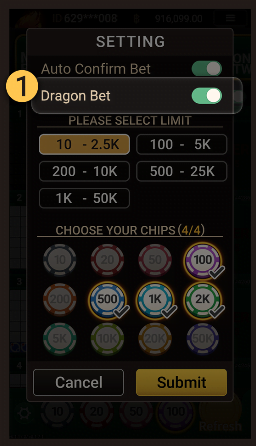 1. Dragon Bet Button:
This feature allows you to place bets on all bet spots that meet the rules within the specified filter. The value of your selected chip will be placed on all eligible bet spots simultaneously.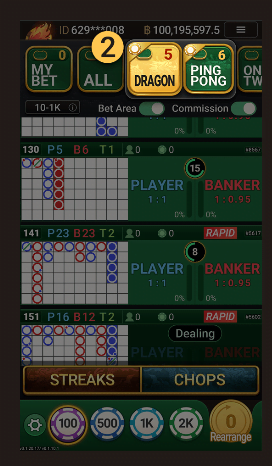 2. Special Style:
The designated filter and the corresponding bet spots for streaks/chops will be presented in a special style.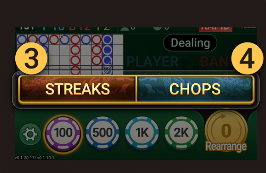 3. Bet on All Streaks:
Place bets on all streaks that meet the rules within the specified filter. 
4. Bet on All Chops:
Bet simultaneously on all the bet spots that meet the rules for chops within the specified filter on the table layout.
Attention:
When placing bets on multiple tables, it's crucial to prioritize the successful placement of bets. Take into account the differences in bet times for each table. Careful planning and decision-making will ensure that you don't miss out on any opportunities while enjoying your Hotroad experience.
HotRoad Extra Bonuses
In addition to the exciting gameplay in Hotroad, you have the opportunity to claim extra bonuses based on specific combinations. These bonuses can add an extra layer of thrill to your gaming experience.
Fortune Trio:

If you manage to win "Player Pair," "Tie," and "Banker Pair" simultaneously, you're in for a special treat.
You'll receive an impressive 100 times extra bonus from the lowest wager between "Player Pair," "Banker Pair," and "Tie."
Fortune Duo: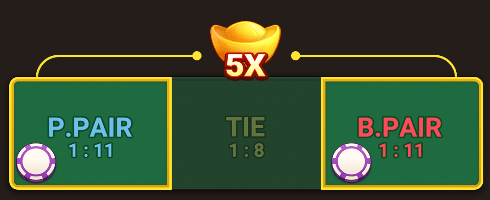 When you achieve a winning combination of "Player Pair" and "Banker Pair" at the same time, you'll be rewarded with an extra bonus.
You'll receive a 5 times extra bonus from the lowest wager between "Player Pair" and "Banker Pair."
***Note: It's important to mention that "Fortune Duo" won't be paid if you win the "Fortune Trio." So, choose your strategy wisely and aim for the most rewarding combinations to boost your winnings.
These extra bonuses make Hotroad even more captivating and rewarding. Keep your wits about you, and with a bit of luck, you could hit the jackpot with these special combinations.
Conclusion
In conclusion, Hotroad stands as a pioneering example of the integration of advanced technology into the realm of gaming. Its innovative use of robotic arms in the live streaming experience sets it apart, providing players with a cutting-edge and immersive environment. Moreover, the partnership with Winbox Malaysia, a trusted name in the industry, ensures a seamless and secure gaming platform. As Hotroad continues to evolve and redefine the boundaries of online gaming, it not only delivers excitement but also showcases the potential of technology to transform our entertainment experiences. With its unique blend of innovation and partnership, Hotroad offers a glimpse into the future of gaming. 
FAQ
Q: What is Hotroad?
Q: What is Multiplay, Single Table, and Switch Table?
Q: Can I play Hotroad on my mobile device?
Q: How do I contact customer support if I have issues or questions?
Q: How to register an account in Hotroad?