Free Test ID
Username: test1 – test9999
Password: 1234
Playtech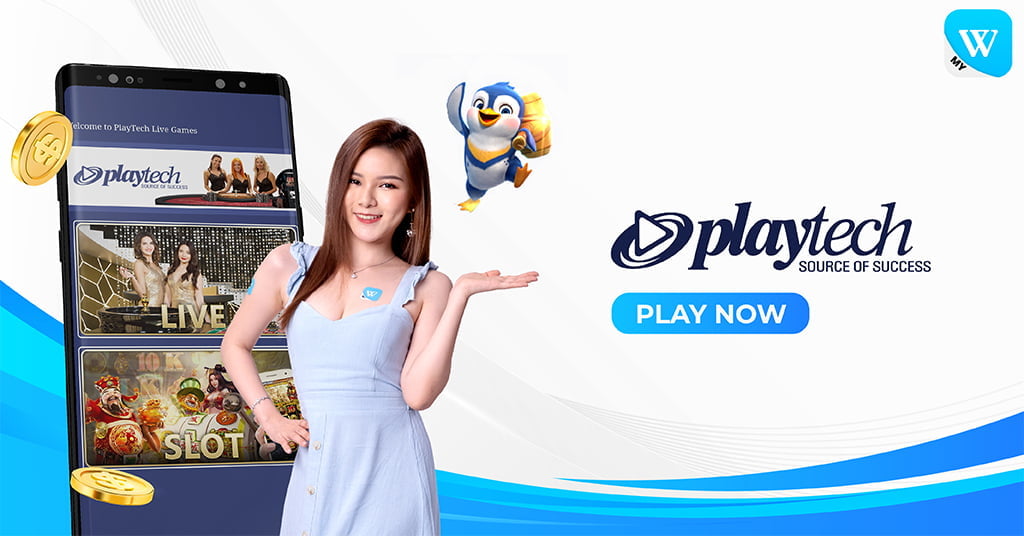 Playtech has been at the top as an online casino software provider not only in Malaysia, but across all over the world. This online casino software provider is renowned for its wide range of games available, high return to player, and also provided its client a fair gambling environment. Playtech was founded in 1999, it focused on the sustainable gaming development of the best gaming products and content, with the strong partnership with its licensees, it is standing strong in the industry right now, until today. 
Playtech is reputable for its security and safety. After all the testing and verification done on Playtech, it has all the needed licences, great security measures and reliable customer support services. In the review below, we would discover in detail why the safety and security of Playtech's is well developed. 
Winbox, the leading virtual multi-functional entertainment site in Malaysia, has partnered up with Playtech to provide the best entertainment experience to its clients. These games include slot games, live table games, jackpot etc. With the inciting promotions and bonuses from Winbox, Winbox believed that the partnership with Playtech would definitely attract a bigger crowd of players to play at its site. 
Playtech is definitely a brand which cannot be missed out when it comes to mobile gaming. As mobile gaming is one of the trends right now, Playtech is certainly a choice to play with, related to its excellent mobile optimization, easy access, and user-friendly navigational properties. This is because they have made a mobile gaming experience that is both easy to use and smooth. If you are a big online casino fan in Malaysia, you must be feeling so proud as they are working with Winbox online casino to bring you the best gaming experience that you will ever experience. If you are looking forward to getting a fun and engaging online casino software provider, Playtech would not disappoint you as it is able to offer all the online gaming options under a single virtual roof.  
In this review, we are pleased to explore every aspect of Playtech's hot game. We will be covering the topics on Playtech's overall rating, exciting games available in Playtech, registration of Winbox accounts and matters regarding deposits and withdrawals. Hence, Keep reading to know what this all-rounded gambling and gaming site could give you. 
Overall Ratings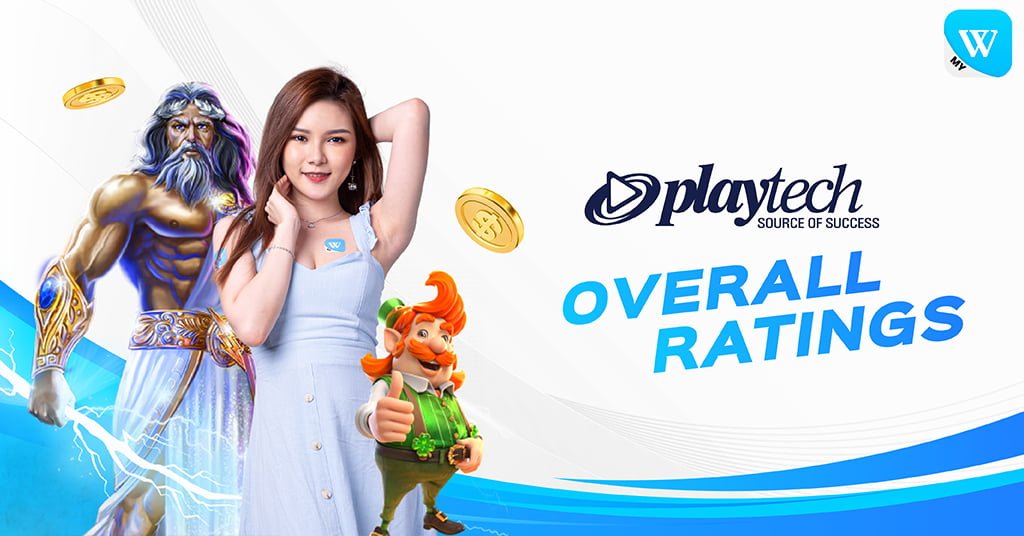 Trust Fairness: Players online casino platform has been developed since 1999, as time passes, the development team has built this gaming software well equipped with cutting-edge technology and a foolproof safety mechanism to safeguard its users' personal information.
Games: Playtech online casino offers a variety of high-quality casino games, including slots games and live dealer games. The games in Live casinos are numerous, including Baccarat, Roulette, Blackjack, Sicbo and Texas Hold'em. While for slots games, it has over 100 themes of slots games available, and most of them has a progressive jackpot feature which players could win up to more than a million Ringgit.
Bonuses: The bonuses and promotions given by Winbox are extremely generous. Winbox provides a range of bonuses and promotions to players to play on game in Playtech via the Winbox application, these bonuses include the Welcome Bonus, Daily Spin Bonus and Slot Turnover Bonus.
Customer Support: As Winbox has partnered up with Playtech gaming software to its users, the 24/7 customer service of Winbox is ready to serve when you need assistance. Therefore, users can contact customer assistance at any moment via Live Chat, WhatsApp, Helpdesk and Telegram. Besides that, the customer service is available in multiple languages, which is an added value to Winbox, as most of the players would like to play on online casinos which have their native languages, these languages include Malay, English, Chinese and many more.
Basic Information for Playtech

Website: https://www.winboxclub.com/
Games: Slots Games and Live Dealer Games
License: Gaming Curacao (GC), PAGCOR
Certifications: BMM, iTech Labs, Godaddy Verified & Secured, TST Global
Support: Live Chat, WhatsApp, Telegram
Languages: English, Malay and Chinese
Currencies: MYR
Payment Options: Bank Transfer, Instant Transfer
Bonuses and Promotions

Playtech is affiliated with one of the most trusted online casino platforms in Malaysia, Winbox, both new and established gamblers will have the opportunity to take advantage of great deals. New Winbox users are eligible for an assortment of enticing bonus programmes that Playtech and other game producers can implement in their preferred games. We shall review some of Winbox's most intriguing promos in the section below: 
*** To All Winbox Participants: 
Please note that the promotion may have changed since this review was written, as you are reading it after it has been published. Please do not hesitate to contact our customer service department if you have any issues or require additional information. You may also view it by visiting the "Winbox Promotion Page". 
[Welcome Bonus] – 100% Top Up Bonus 
Winbox offers a welcome bonus to newly registered customers, similar to other online casino platforms. Winbox will offer a 100% top up bonus to new users who sign up for an account and make an initial deposit of at least RM20, and the maximum claim of the bonus is RM100. The game credits can be used to play games in Playtech and other Winbox-affiliated games.
[Daily Spin Bonus] – 1 Bonus Spin Entitled For Every RM30 Deposit 
The "Daily Spin Bonus" is the most enticing bonus given by Winbox. Every time a player deposits RM30 into their Winbox account, they will receive one free spin with the chance to win up to RM50 in free credit per day. Which means that, if a player deposits a sum of RM300 in a day, he is entitled to 10 spins which could get a minimum bonus of RM50, and a maximum bonus of RM500, as the lowest spin bonus is RM5, and maximum is RM50. 
[Slot Game Turnover Bonus] – 1 Bonus Spin Entitled For Every RM1000 Turnover 
Another type of excellent promotion is primarily contingent on player turnover. A player receives one free spin for every RM1000 in daily turnover, and can claim up to RM30000 turnover. Except for winnings of at least RM100, bonus credit cannot be withdrawn. This is one of the few terms and conditions that Winbox would like to make clear to their players.  
Available Games
Live Casino: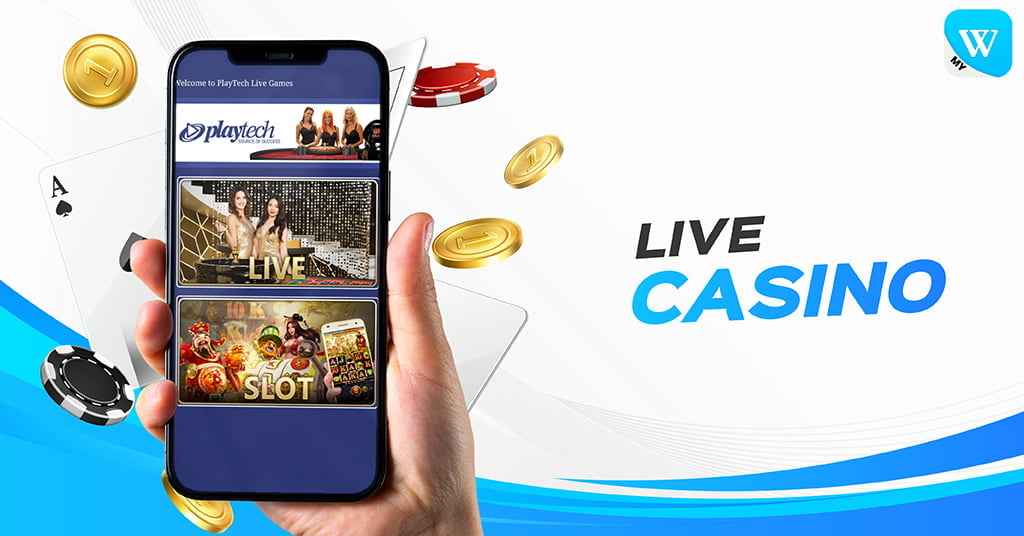 Playtech has developed a high-end experience look and feel of true VIP standards to the players.  In order to provide a high level of satisfaction and built around providing the same experience VIP's expect in any top end casino, Playtech has used the Grand Royale casino theme, which is Playtech's Grand Blackjack, offering VIP customers the same experience of a VIP standard table.
The demand for roulette games is getting higher nowadays. The Grand Roulette is a new style table Roulette game which is newly developed by Playtech. Next, the new Mini Prestige Roulette is developed to increase a better engagement experience to the players. 
A whole fresh experience is offered by Playtech, which is the total of seven tables, which include 5 Blackjack tables, one Baccarat table and one table of Roulette game. Grand Royale has been developed to fit the gambling appetite and needs of the players.
Augmented reality is one the latest and advanced technology seen in Live Casino, and this technology is developed by Playtech. This allows players to experience the live games on an entirely new level or reality. This technology development has been used on Roulette, Blackjack, Baccarat and all the other games.
These are the live casino games that you can find in Playtech: 
Single Zero Roulette: 
Take your place at our Single-Zero Live Roulette and be part of the action. This wheel has 37 numbers in total. Roulette has been one of the most classic and popular live casino games.  The players have to bet on the numbers where the ball stops on the Roulette plate. The Roulette game could be very fair as it is dealt by Playtech's professionally trained dealers and this would give the players an amazing experience in betting. 
Prestige Roulette Lite: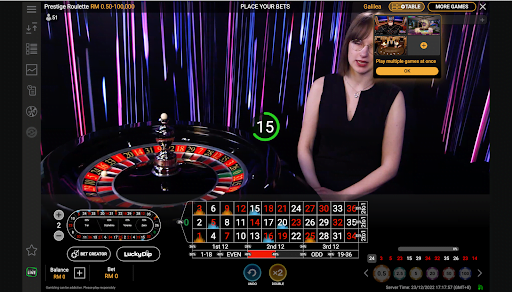 Playtech's Prestige Roulette Lite has the same offering as our Prestige Roulette. The difference is, this type of Roulette game is connected with lesser cameras so that players can experience a faster pace of the game, but at the same time, it does not affect the quality of the game. 
Speed Roulette: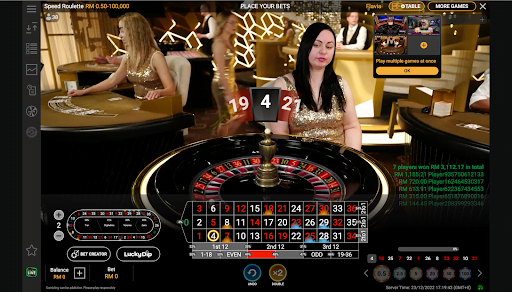 Speed Roulette is Playtech's unique version of Roulette. This version of Roulette has the shortest betting time as this is developed for players who like a fast game. The next round of game will start within 20 seconds after the current game ends and players has to bet fast in order to join the next game. 
Baccarat 7 Seat:
Playtech's 7-Seat Live Baccarat games can occupy up to 7 players on the same table at the same time. Similar to the live casino, this Baccarat game feature is like a land baccarat  table, but it appears online. In this game, players are able to find themselves playing a Baccarat game in a live place with a live atmosphere, forgetting that they are playing on a computer. 
Baccarat Squeeze:  
Playtech's market leading Baccarat Squeeze table offers players a unique feature of "squeezing" the card. This feature allows the players to squeeze the card to reveal the card numbers themselves, increasing the excitement of the game as some of the players like to reveal the card by themselves, instead of being revealed by the dealers. 
VIP Baccarat: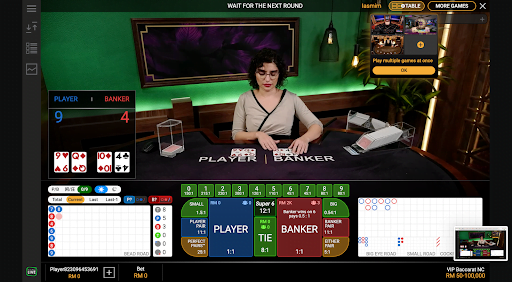 Playtech's Live VIP Baccarat would give you the most VIP-experienced ever Baccarat game. It could be played by up to seven players on the same table and dealt by a professionally trained Baccarat dealer. This VIP Baccarat would let the players have a feel as if they are sitting at a Baccarat table at one of the world's top casinos. This fascinating gaming experience has created an exciting atmosphere that players hardly find at other online casinos. 
Mini Baccarat: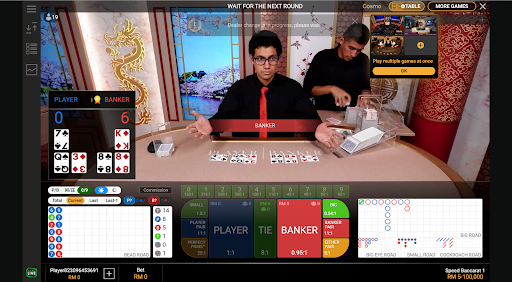 Mini Baccarat is a simplified version of Playtech's Baccarat game. In this game, players can play this in a small window while playing other games. In other words, players are able to open multiple games in Playtech at the same time, while enjoying this Baccarat game. 
Blackjack: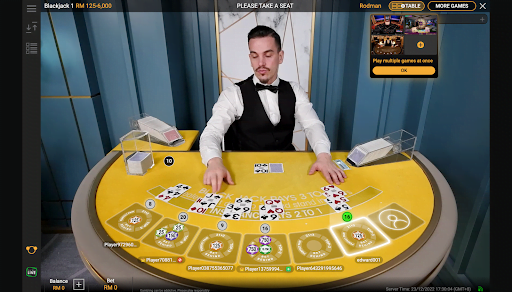 Playtech's Live Blackjack games are played with a real blackjack table, a live dealer, eight decks of cards and a group of players. Players are able to observe while other players are playing the game.  This creates a realistic gaming atmosphere exactly the same as you are playing in a live ground casino.   
Ultimate Blackjack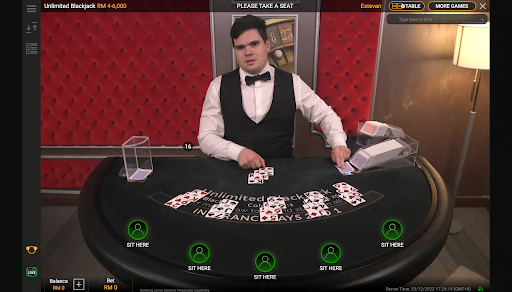 Similar to the ordinary Blackjack, Live Unlimited Blackjack is played with eight decks of cards and a highly-trained live dealer. The difference is, regular Blackjack tables limit the number of players at a table, while Live Unlimited Blackjack does not limit the number of players to join the game, which means that anyone who wants to play can get a seat.  
Casino Hold'em 
Playtech's Live Casino Hold'em is a five-card poker game between the players and the dealer. It is dealt by the professional dealers of Playtech to make sure no errors are made in the gaming process. The cards will be shuffled in every round of the game to make sure fairness and randomness of the Poker game.  
Slots Games: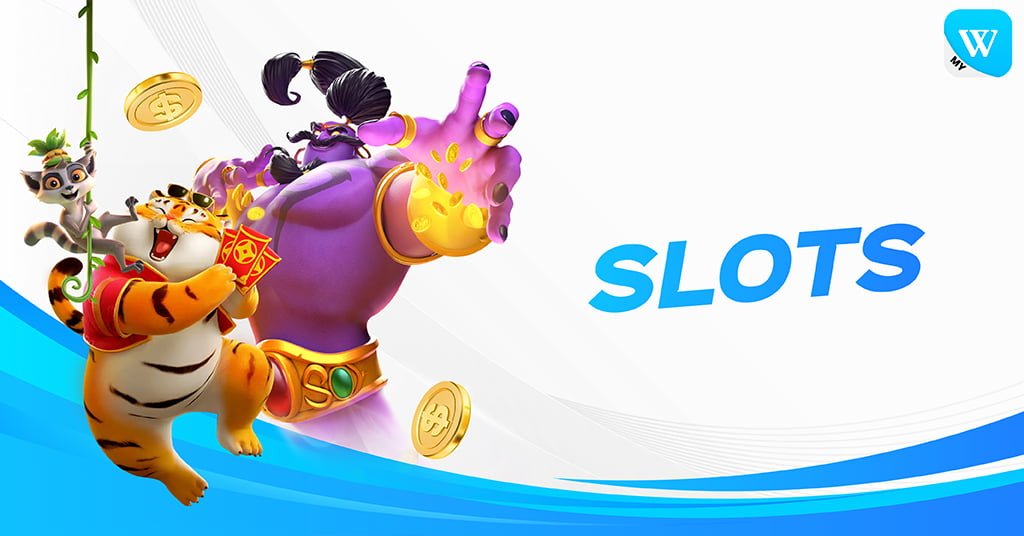 There are tons of humorous slot machine games with the potential for enormous payouts that can be found at Playtech, And most importantly suits the gaming appetite of the players in Winbox.  All of the online slot machines that Playtech has to bring to the table for Winbox online casino members to enjoy feature a straightforward, graphical and  user-friendly interface. Plus, there is a turbo spin mode for most of these games. Most of these slots employ HTML5 technology to enhance the slot gameplay experience, which does not require the download of drivers or additional software. HTML5 slots are compatible with all modern browsers and mobile platforms. 
There are special features and functions in the slots games of Playtech. For players who like the reels to go fast, there is a "turbo" button, in which the reels will go faster compared to the normal reeling speed. And, there is an autoplay function in the slots games, in which the players do not have to keep pressing on the play button to keep the game going, the autoplay function will have the game autorun while the players can let the game keep going without pressing the play button. The winning lines would also appear to indicate the bets won by the player during the game.
The games at Playtech support multiple languages, not to mention the fact that the Playtech slot data panels are really comprehensive, and each slot displays its RTP for their players to do their own research.  After a victory, all winning lines are shown in an exemplary manner. The excellent part is, you are always aware of the basis for your victory and the lines involved. 
Recommended and hot slots games in Playtech are:
Slot Game With Highest RTP in Playtech 
Great Blue: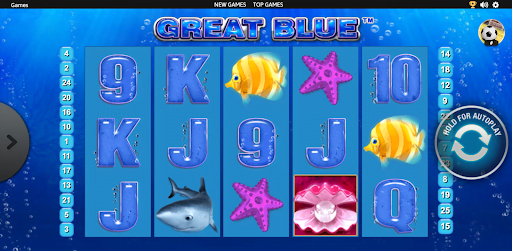 Being one of the famous 5-Reel 25-Line Slot games, Great Blue is created with the theme of the ocean and aquatic creatures. The whale in the game represents the WILD symbol in the game. The WILD symbol can stand for any other symbol (except the SCATTER and BONUS symbols) to make the best possible winning combination, with the WILD SYMBOL appearing, the winnings from the reels is multiplied.
SEA SHELLS BONUS 
When the bonus game is triggered, you automatically win 8 Free Spins with a win multiplier of x2. The reels will transition to show 5 sea shells, which can be tapped to win prizes. Tap 2 sea shells to win additional Free Spins and/or increase the win multiplier. During the Free Spins, the reels are spun automatically using the same number of lines and bet per line as on the spin that won the Free Games. If 3 or more SCATTER symbols appear anywhere on the reels during a Free Spin, 15 additional Free Spins are added to the existing ones. The win multiplier does not change. 
Jin Qian Wa: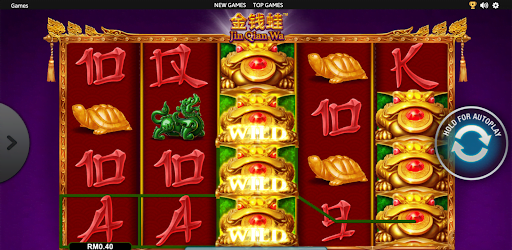 If you are a fan of Chinese Culture, you definitely will love this game. This is a 5-Reel 40 Line-Slot game featuring additional symbols from the Far East. These symbols include, a toad with a red ruby in its mouth, a gold turtle, an ivory elephant, and a green dragon. In addition, there is a white and black yin/yang sign, a wild symbol with Chinese text, and a variety of card symbols with Chinese calligraphy.
Jin Qian Wa is a wild symbol that may substitute for all symbols besides scatters. When more than three scatter symbols appear in any location on the wheel, eight free games are awarded. In free games, the likelihood of additional wild symbols appearing is greater. And, free games can be triggered while you are in a free game, and these free games round can be triggered indefinitely. 
Gem Queen: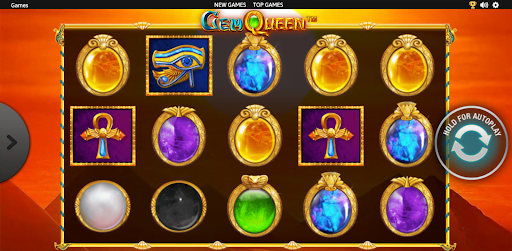 Featuring a series of colourful gems, a queen and Cleopatra, this game has become one of the top RTP games in Playtech. Cleopatra is the WILD symbol of the game. The WILD symbol appears on reels 2, 3 and 4 only, both during the main game and the Free Games feature. 
The special feature of this game is the Collapsing Reels. Both the main game and the Free Games in Gem Queen use collapsing reels. When the reels are spun, all symbols currently on the screen fall out of the bottom of the reels and new symbols fall in from the top of the reels. Any win will trigger a collapse. Any symbols that participate in a winning combination will disappear after winnings are awarded. The symbols above the winning combination that disappeared will fall down into the empty positions on the reels. Any new winning combinations created by this collapse will trigger another collapse. Winning combinations will continue to trigger collapses until no new winning combinations are created by a collapse. 
Progressive Jackpot Slots Games 
Age of the Gods – Gods of Storm: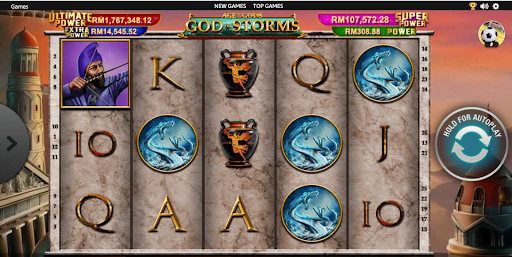 This game is a 5- Reel 25-Line Slot game built with the theme of the ancient gods, together with ancient symbols. There are 2 Wild symbols in the game: the WILD and the SHIP WILD. Both Wild symbols are stacked 3 symbols high, can only land on reels 2, 3 or 4 and can only land in the main game. When a SHIP WILDlands fully on reel 2, 3 or 4 in the main game,the Wild Wind Respins feature is triggered. Wild symbols can stand for any other symbol to make the best possible winning combination but a WILD cannot substitute for a SHIP WILD to trigger Wild Wind Respins. 
The most exciting part of this game is the multi-progressive jackpot feature. The jackpot amount is accumulated from all players' bets in all games which feature the Age of the God Jackpot, among all online casinos that offer these games. There are 4 levels of jackpots that can be won: Power, Extra Power, Super Power and Ultimate Power. The different types of jackpots hold different prize amounts, which the Ultimate Power jackpot amount could go up to a million Ringgit. 
Age of the Gods – King Of Olympus: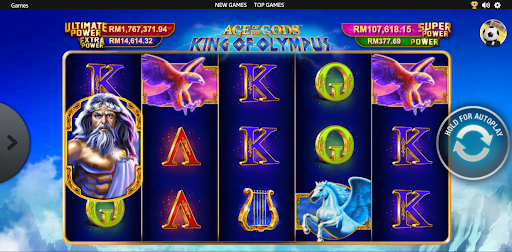 Similar to Age of the Gods – Gods of Storm, This game is a 5- Reel 25-Line Slot game built with the theme related to Zeus and ancient symbols. The Zeus symbol is the WILD symbol in the game. The WILD symbol can stand for any symbol, except for the SCATTER symbols to make the best possible winning combination. 
The Temple is the SCATTER symbol in the game. The SCATTER symbols do not have to occur on any particular payline. If there are 2 or more SCATTER symbols in the spin results, the payout earned is multiplied by the total bet and added to payline winnings. If 3 or more SCATTER symbols appear simultaneously anywhere on the reels during the main game, the Free Games feature is triggered. And the Free Games feature will multiply your wins from minimum 2X to 6X. 
Inca Jackpot: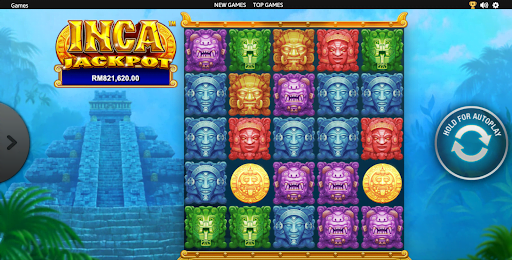 Inca Jackpot is a chain reactor game, which makes it special from the other reels game. To win, players have to obtain combinations of 5 or more vertically and/or horizontally adjacent identical symbols, which award multipliers for your bet. Inca Jackpot features 6 different symbols – 1 Coin symbol and 5 Mask symbols. 8 or more Coin symbols trigger the Jackpot feature.
At the beginning of each game round, all the symbols in the game field are reset. Symbols that form a winning combination will explode, enabling new symbols to drop down to fill the empty spaces. The new symbols may form new winning combinations. The more symbols participating in the winning combination, the bigger the payout. Yellow Mask is a top paying symbol. 16 or more Yellow Mask symbols award you a win amount of 5,000 x your bet.
A winning combination of 8 or more Coin symbols wins a percentage of the Inca Jackpot, depending on your bet size. You can win 10%, 20%, 50% or 100% of the current Progressive Jackpot amount. The share of the Jackpot you can win increases with the size of your bet. 
Playtech's Registration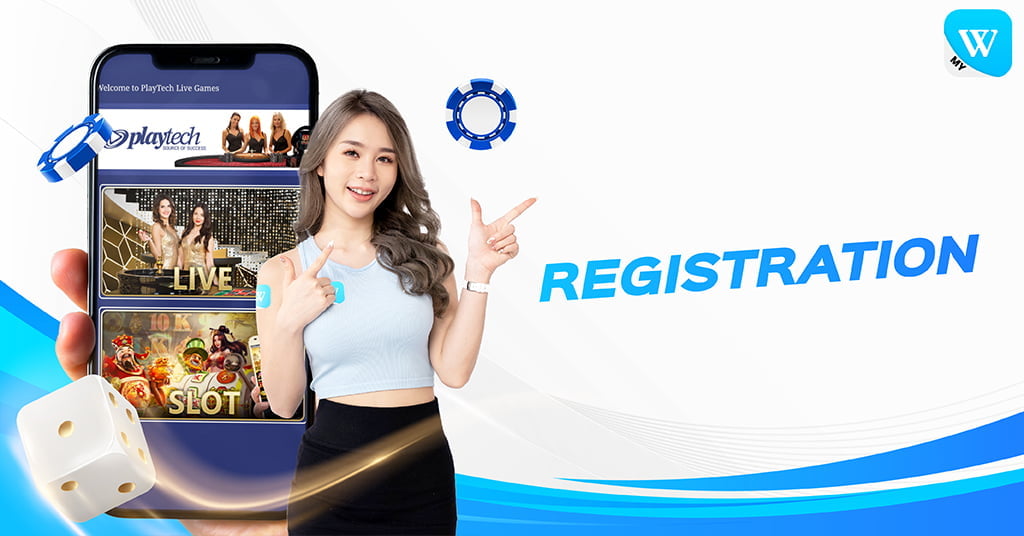 Our review has gotten you enough excitement to try out the fun and exciting games in Playtech. To start playing, you must register an account In Winbox. Once registered, you will get to enjoy the exciting games in Playtech. Here are the steps to download Winbox application: 
For Android Users: 
Visit Winbox official website "https://www.winboxclub.com/" to start downloading Winbox application or scan the Winbox QR code from Winbox website itself.
Then, players need to go to the phone's settings and search for Apps permission to lets the installation work smoothly without any issues while installing.
After the installation has been done, players are required to register a Winbox account from the application in order to play Playtech.
Player is required to set a unique ID which is to create an ID using letters and numbers, then set up a password by using 6 characters that include letters and numbers. Then, enter the password once more, then click the button labelled "Confirm".
Then, player will receive an OTP numbers from their phone, then key in the OTP into the applications, then your installation and registration is done.
For IOS Users: 
Visit Winbox official website "https://www.winboxclub.com/" to start downloading Winbox application or scan the Winbox QR code from Winbox website itself.
Click on the mobile device Apple IOS APK version to finish installing the Winbox App version, and then they have to click the "OK" button to activate the app.
Go to "setting" and then go to "general", "profile and manage devices", "options", and then click "trust" to allow the application.
After the installation has been done, players are required to register a Winbox account from the application in order to play Playtech.
Player is required to set a unique ID which is to create an ID using letters and numbers, then set up a password by using 6 characters that include letters and numbers. Then, enter the password once more, then click the button labelled "Confirm".
Then, player will receive an OTP numbers from their phone, then key in the OTP into the applications, then your installation and registration is done.
Note that creating an account and in order to deposit and play, you are required to verify your personal and bank details with your real name. Winbox will get back later to let you verify your details. Once verification is done, you can start enjoying the games in Playtech after the deposit is done. 
Depositing and Withdrawing in Playtech
Depositing and withdrawing in Winbox is easy. Here, we will list down the steps to deposit and withdraw so that you could start playing immediately. 
How To Deposit in Winbox to play Playtech 
Log into your Winbox

account and select the preferable deposit method (Bank Transfer or Instant Top Up. 

Key in the amount you want to deposit into your Winbox account.
Key in the bank details and information and credentials to proceed with the transfer.
Once deposit is done, enter Playtech with the amount you wish to play with and start playing.
How to Withdraw your winnings in Playtech 
Enter your Winbox account.
Ensure you hit the turnover requirements in order to withdraw your winnings.
Enter the amount you wish to withdraw.
Select the bank you wish to receive your winnings at.
The withdrawal will take up to 30 minutes to make sure the withdrawal is success.
Why do gamblers trust Playtech?
Playtech stands out as one of the strongest online casino software providers internationally, with no doubt. It's not easy to maintain such a high level of trust by the players. Hence, we would like to cover how Playtech obtains such trust from the players. 
Customer Support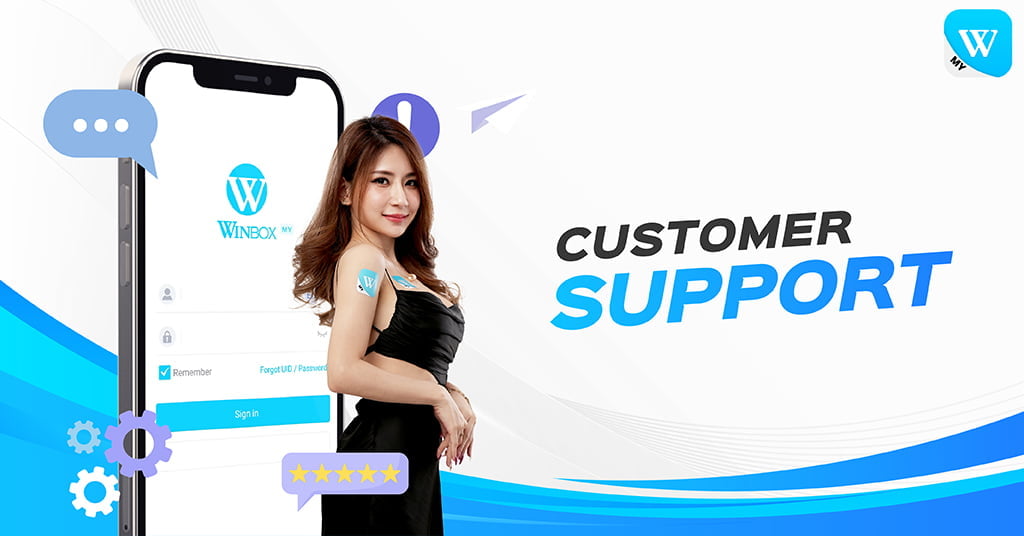 When you play Playtech under Winbox, customer support is served by highly trained customer support team. If the customers experience any difficulties in the game or access to casino games, you can immediately contact the round-the-clock customer support team at the "Helpdesk" to assist you.
The support staff is always on standby to give you ongoing support, for example, problem depositing and withdrawing, problem entering into the game, account verification problem and so on. The support executives are reachable through the "Helpdesk" in Winbox.
Winbox support is available in various languages such as English, Malay and Chinese. The variety of languages available has attracted the players as some of the players would like to play at online casinos which have their native languages. 
Trusted Banking Options
The safety of bank information is one thing that gamblers concern the most. Winbox has done a great job in making sure no errors and safety problems occur in order to maintain its customer base, hence, Winbox only provides reputable and secure payment methods. The banking options provided by Winbox are convenient and trusted by most of its users, including the transmission channel used by Winbox. 
The payment methods are:
Bank Transfer (Public Bank Berhad, Maybank Berhad, CIMB Bank Berhad, Hong Leong Bank Berhad, RHB Banking Group, Affinbank and Ambank Berhad)
Instant Top Up (Public Bank Berhad, Maybank Berhad, CIMB Bank Berhad, Hong Leong Bank Berhad, RHB Banking Group, Affinbank and Ambank Berhad)
Security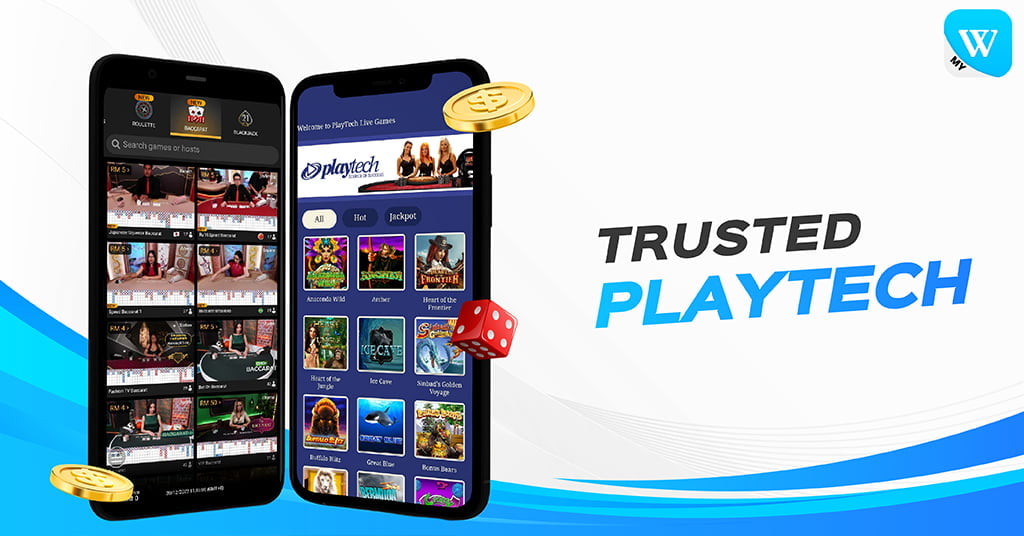 While members access Playtech from Winbox, they can certainly not need to worry about their privacy and security. Its URL address of Winbox has a padlock sign that indicates the presence of SSL encryption. This encryption ensures players data is well protected while transiting to the casino server, there is no unauthorised third party can access the data
As mentioned, security and safety is certainly a matter that most of the online casino players concern the most. Winbox has done a perfect job in making sure the safety and security of its platform. PAGCOR, the Philippine Amusement, and Gaming Corporation, a regulatory body which is responsible for fairness assurance, has granted Winbox a gaming licence which prove that Winbox is actually a fair gaming and trusted casino.  
User-Friendly Interface
Playtech's user experience and interface is incredibly graphical and real. We are ready to dig deep and indicate how smooth Playtech's website and platform is. Once users enter Playtech, they can easily get to the Live Casino or Slots Game of their choice without a moment of hesitation. Equally, the dashboard leading to customer support, promotions, and other sections are well-labelled for more straightforward navigation. 
What are lacking in Playtech?
Sports betting game is not available:  
Playtech doesn't have any sports betting platform, so sports bettors could not place their bets on this online casino gaming software provider. It is not surprising that an online gambling company may earn a great amount of money from sports betting. In the market, some of Playtech's competitors are functioning exceptionally well and donating a considerable percentage of their company's income to their sportsbook services, which is one of Playtech's underrated qualities. 
Fishing Games is not available: 
Except for live casino and slot games, Fishing Games is one of the most classic and welcomed online casino games in Malaysia, even across Asia. As some of the players prefer competitiveness against each other, a group of players (usually four players) likes to shoot fish with cannons for rewards. However, Fishing Games are not available in Playtech and this might cause them to lose some of the Fishing Games fans across the country.  
Final Thoughts
From the immersive Live Casino Games to Slots Games, Playtech is certainly a top-tier gaming site. New players and existing members would like to experience games in Playtech by any chance. As a member of online casinos, we believed that friendly user interface and easy-find control buttons of a platform certainly matters.
Registration with only a few steps makes registration in Winbox easy. Winbox requires members to submit their mobile phone number, name, and bank details. Thereafter, Winbox casino might require you to submit your bank information and details for verification purposes, to prevent money laundering problems. The registration process is simple and less troublesome.
Once you set up your account, you can start the excitement in the games in Playtech. Of course, you have the freedom to choose between fascinating Live Casino Games or Slots Games. And, you can easily request to withdraw your winnings whenever you reach a withdrawable balance.
Overall, Playtech is an all-round platform for gaming and gambling entertainments. Hit them from the comfort of your home and enjoy timeless gaming. Importantly, the Slots Games in Playtech is well-known for their rate of return to player (RTP), which is generally the highest in the market. What are you waiting for? Start registering an account in Winbox and start playing Playtech now! 
FAQ
Q: What is Playtech?
Q: Is Playtech safe?
Q: How to download Playtech?
Q: How to register a Playtech account?
Q: How to deposit in Playtech?
Q: How to withdraw from Playtech?